---
The Basics
---
My name is Nigel Owen, I'm 63 years old and I live with and share my life with my partner Mark. Here's a photo of us at our Civil Partnership ceremony in October 2006 (and that's Cheeky Monkey at the front!):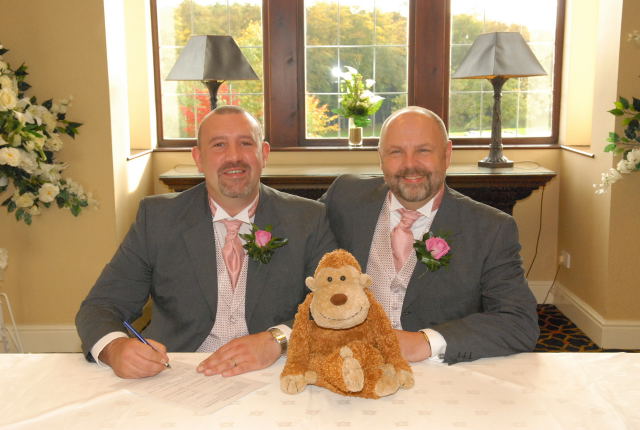 We live in a small town (population around 15,000) called Cleckheaton which is situated at the foot of the Pennine hills in West Yorkshire, England.
Cleckheaton is located about half way between London (195 miles to the south) and Glasgow/Edinburgh (240 miles to the north).
It takes about three and a half hours to drive to Cleckheaton from London, two hours by train to the nearest main-line railway station Brighouse on Grand Central Railways.
The map below shows northern England:

If you look on a fairly detailed map (as seen below) you'll see that Cleckheaton can be found between Leeds and Huddersfield just off the M62 and M606 motorways to the south of Bradford.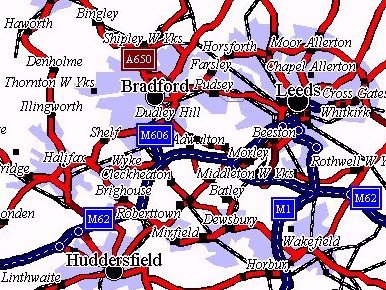 ---
Yorkshire offers a wealth of opportunities for the tourist: the historic city of York, the commercial centres of Leeds and Sheffield, the industrial heritage of Bradford and we're surrounded by the spectacular countryside of the Pennines and the Yorkshire Moors. If you've read any of the books by the Brontė sisters such at Wuthering Heights they were all written and based a fifteen minute drive from Cleckheaton. The sisters were born in Thornton (now a suburb of Bradford) and lived most of their life in the village of Haworth (see top left of the map above). You can visit the former vicarage where the Brontė sisters were brought up and wrote their books - it's now an excellent museum which is well worth a visit.
Don't forget that Yorkshire is famous for the hospitality of its people - so come visit us soon! Click on the Yorkshire Tourist Board button for helpful tourist information - a warm welcome awaits you.
---

---